I remember when I first saw a photo of a lynching. I couldn't have been more than ten years old and was afraid to go outside of my house or attend school. I told my mother that the people that were hanging could not have been viewed as human but as objects of intimidation and pure terror. I recall the trauma from this photo I experienced as a child. The fear and concern for me and my family began to really scare me. Once researching this photo, I told my mother about it and she told me to research the word "lynching". Upon the discovery, I stepped into this dark time of American history and I have become an advocate against the violation of human rights  since then. As discussed by Paula Giddings, professor of Afro-American Studies, the historical definition of this term is when someone is put to death by hanging by a mob consisting of three or more people. Lynching is done without a legal sanction, a trial, or a court sanction and actually began during the Revolutionary War. It did not become an issue of racial terror until 1886 when the number of Black lynching became higher than that of White lynching. 
The National Association for the Advancement of Colored People (NAACP), an organization that fought against the struggle against lynching  discusses the act of lynching and the nature of its terror. Lynching in America was done as an act of terror against Black people following Reconstruction in the late 19th century. The organization estimates that between the years of 1882-1968, 4,743 people were  lynched. Among those people, 3, 446 of those victims were Black. The Equal Justice Initiative, an organization dedicated towards the liberation of oppressed people in America has done much research on lynching. It documents the practice being done in mostly Southern states such as Mississippi, Alabama, and Georgia. It was not limited to the Southern states. The organization lists that it also occurred in other Western states such as Illinois, Kansas, and Oklahoma. So, during this time after Reconstruction, racial lynching was a nationwide phenomenon.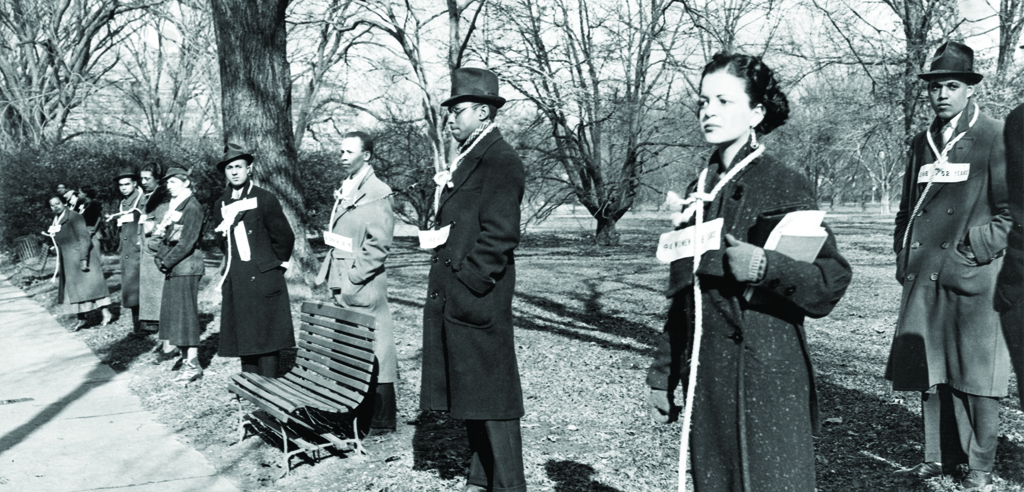 Research from the NAACP and Giddings notes, that most of these acts of brutality were justified  in the eyes of many Southerners. It was used as a method of intimidation to  Black people within their communities which resulted in this season of racial tension. Lynching was also a tactic that was influenced by the desire to protect the Southern white womanhood. In the eyes of Southern whites, there was this notion that Black men were sexually aggressive and predatory towards white women. Most lynching were motivated by the accusations of sexual assault and violence of Black men against white women. Although that was the story that the history books told, I knew that it had to be more to the story than that.  I wanted to study more about lynching because it affects so many things in our society and our country overall. For all these incidents of racial terror to occur for so many years, the effect of that terror does not just cease.  As I came to college and became more of an activist, I wanted to do my own research on lynching. I began to understand the importance of studying the ugly moments in history because we are told to forget.
Although the act of lynching has decreased at a tremendous level, the attitude and the justification of lynching has not. During my research, I discovered lynching was not only subjected to death by hanging, but also through beatings or being burned alive. Not only the denial of a trial but to hang someone from a tree who was most of the time innocent of the crime they were accused of. The victims were confronted by a lynch mob in jails and then beaten and tied with rope. The most shocking thing about all this was the vigilantism about it and the act of mobs storming into a jail cell to retrieve an innocent man or woman and deny them a fair trial. Hanging was not the only form of punishment they endured. Giddings also notes that victims were also burned alive, dismembered, or even dragged by vehicles, beaten, and even castrated. As lynching became spectacles for the white people in these communities, it became clear to me that these victims could not be viewed as human beings during this time. This was during a time period in America where Black people did not have many civil or human rights.  The rights of their humanity were not protected under the American law as many white people did not even look at Black people as citizens. The ADL, an organization for anti-hate advocacy, declares that there was this notion of superiority that allowed for the white race to feel superior to the Black race. This notion is the foundation of white nationalism and white supremacy in the United States. 
Lynching was viewed as the hate crimes of their day and were often used to maintain their superiority and social order in America. This lack of respect for their humanity is displayed as they were killed simply because they were Black. They were not seen as humans and their rights were not protected under the law. This problem of the lack of recognition of the human rights of Black people has left a damaging legacy and continues to contribute to the racial issues in America. Recently, I have visited the EJI museum and witnessed the jars of the soils of the sites of the lynching victims. There were so many, and it dawned on me that all these human beings could only be remembered in a jar of soil. Then I visited the National Memorial for Peace and Justice and saw the pillars of the lynching victims in America. Not only did the number of pillars completely shock me, but as you walk down the area, the floor descends, and the pillars ascend. This was to represent the victims hanging from the trees as the pillars are hanging from the ceiling. Breathtaking is not strong enough of a word to describe how I felt, I felt helpless and full of sorrow because I could not help them nor fight for them. All I could do was memorialize them as the ones that died in the struggle for Black liberation. 
As I think about this kind of hate violence, I begin to think of other victims whose lives have been taken by hate. I think about people such as Emmett Till, James Reeb, Matthew Sheppard, Brandon Teena, and countless others. To me that kind of violence that is motivated by hate is the most abrupt and vicious attack on human rights. Although this type of hate violence occurred during Reconstruction, there is this overwhelming feeling that hate violence have been steadily increasing in these present times. This kind of hate violence has left a haunting legacy that still haunts our society today.  In an article by the Washington Post, it discusses the rise of hate crimes  and the target towards minority groups and religious groups. These groups include crimes against the LGBTQIA+ community, people of color, and Muslims in America. I feel as though the motivation of this growing trend is due to white nationalism and the desire to return to a society where white populace was the dominating voice in the country. Hate crimes have been recognized by the Human Rights Campaign in regards to  hate crime related violence. Even though it has been declared by legislation, there needs to be more advocacy for ending hate crime violence in the United States. 
Hate crimes are committed to express prejudice and hate against a certain group and in this act, one does not see these victims as human. Instead, the victims are seen as people that must be punished for ruining or destroying what they consider as "their country".  Of course, this is not moral justification to commit violence against humans, but this is normally the attitude of the ones who commit this violence. To me, legislation is not enough to combat this issue without the acknowledgement of the history of hate violence. There must be conversations about where hate violence stemmed from. I have always lived by the quote of "you have to understand the past to understand the present". By us being able to able to talk about the past, it will allow us to be able to dissect the problem at the root and create resources to prevent it from occurring. 
As a nation that is so rich in diversity, there is not any room for hate towards its American citizens. There is certainly not any room for violence against its American citizens as the rights and safety of American citizens should be protected under the law. If we are really going to move forward as a country, I believe that the country needs to be honest with itself about what has been done in the past. It is imperative because as hate violence was done in order to preserve white supremacy during the lynching period, the same notion remains in our society today. Another aspect is the lack of punishment for people that commit these crimes, and this really exposes the problems that continue to harm the people within our society. Every citizen in this country should be protected under the law along with their rights. 
If we are really going to look at the root cause of this problem of hate crime and violence, then we need to take a look in the mirror and decide if we even value humanity.As a country, we failed during the era of lynching as we failed to recognize our humanity, but that narrative does not have to remain this way for the rest of our lives. There must be more conversations and resources for advocacy against hate violence, it is imperative at this point. It is imperative to ensure that the dark history of lynching and hate violence does not repeat itself as history tends to do. On my part, I have always been dedicated to the liberation of oppressed people and the protection of human rights for minority groups overall. In this I am a fellow of the Jefferson County Memorial Project that does research on   lynched victims in Jefferson County. I appreciate this work because we owe it to them to tell their story and memorialize them. As a part of this fellowship, there will be an opportunity to create conversations in the Birmingham community in an educational way. It is also important to implement this education within the nation about this dark history so that we can see how it affects us today as Americans and how we can dismantle hate violence at the root.